Noni Capsules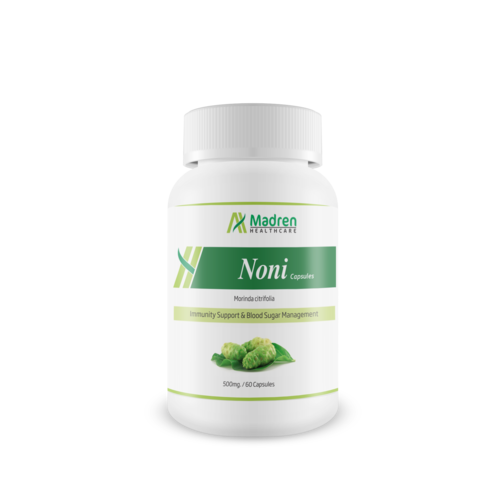 Noni Capsules
Product Description
Noni is a small evergreen tree mainly grown in India, Australia, Pacific Islands and Southeast Asia. There are several herbal medicines that can be formulated using this herb, like an ointment to be applied to the skin. It can be used for so many health conditions, like indigestion, diabetes, high BP, muscle pain, headache, heart problem, arthritis, etc. The leaves of noni are utilized in making medicines for stomach ache, joint swelling, and swelling due to a parasitic infection known as filariasis. The bark of noni is utilized in preparation to aid childbirth.
How does it work?
Non contains potassium and other substances which are helpful in repairing damaged body cells and activating the immune system.
Insufficient Evidence for: Uses
Cancer- Noni isnt helpful in reducing tumor, but it can surely improve fatigue, physical function and pain.
Age-related spinal damage (cervical spondylosis)- People with neck pain undergoing physiotherapy can take noni juice during the treatment in order to relieve that pain and improve flexibility.
Exercise performance- Runner can drink noni, grapefruit, and blackberry juices for around 20 days to improve exercise endurance.
High blood pressure- People with a problem of high BP can drink 4 ounces of a noni juice daily for one month can control BP.
Osteoarthritis- People with osteoarthritis can drink 3 ounces of noni juice on daily basis for 90 days can reduce the need for pain relievers.
Nausea and vomiting after surgery- Noni juice is helpful in reducing nausea post surgery.
Contact Us
106/24, Kabir Marg, Aggarwal Farm, Mansarovar Jaipur Rajasthan India +918035928270
Phone :+918035928270