Garlic Capsules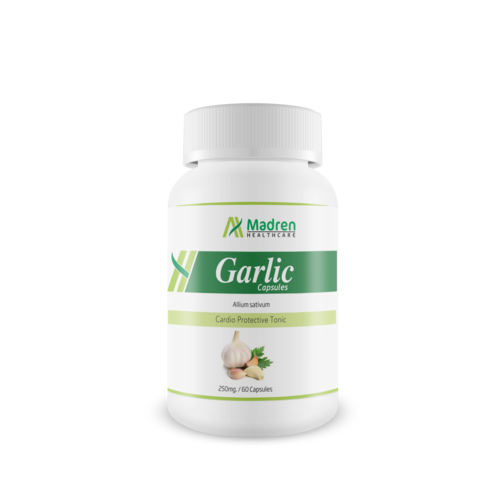 Garlic Capsules
Price And Quantity
Product Specifications
Herbal Medicine

Herbal Products
As a dietary supplement, take 3 capsules daily with meals with water or as directed by a healthcare professional.

For Adults
Store in a Cool, Dry & Dark Place
Product Description
Garlic increases insulin release and regulates blood sugar levels in your body, especially if you are a diabetic.
According to studies, diallyl sulphide found in garlic inhibits the transformation of PhIP (a type of compound that has been associated with increased incidence of breast cancer) into carcinogens.

It can help relieve toothaches due to its antibacterial and analgesic properties. But be aware that it can be irritating to the gum
According to recent research, garlic may help to regulate the formation of fat cells in our body by converting pre-adipocytes to fat cells (adipocytes) by preventing the conversion.
The smooth muscle relaxant Adenosine is found in Garlic and this seems to helplower blood pressure. Garlic is also used to help prevent atherosclerosis(plaque build up in the arteries causing blockage and possibly leading to heart attack or stroke), reduce colds, coughs and bronchitis.
Garlic can stimulate the production of glutathione, an amino acid which is known to bea very potent antioxidant and de-toxifier. See also our article on NAC for more gluathi one info. Antioxidants help scavengefree radicals.
Free radicals are particles that can damage cell membranes, interact with geneticmaterial and possibly contribute to the aging process as well as the development of a number of conditions including heart disease and cancer. Freeradicals occur naturally in the body but environmental toxins (including ultraviolet light, radiation, can also increase the number of these damaging particles. Antioxidants can neutralize free radicals and may reduce or even help prevent some of the damage they cause over time.
Atherosclerosis
Studies suggest that fresh garlic and garlic supplements may prevent blood clots and destroy plaque. Blood clots and plaque block blood flow and contribute to the development of atherosclerosis. Blockage of blood flow to the heart, brain and legs, can lead to heart attack, stroke, or peripheral vascular disease (PVD).People with PVD experience pain in the legs when they walk and move. If garlic does reduce the build up of plaque then strokes, heart attacks and PVD may beles likely to occur in people who eat garlic or take garlic supplements.
High Cholesterol and High Blood Pressure
A number of studies have found that garlic reduces elevated total cholesterol levels and lowers blood pressure more effectively than placebo. However, the extent to which garlic is effective is small.
Diabetes
Garlic has been used as a traditional dietary supplement for diabetes in Asia, Europe and the Middle East. Preliminary studies in rabbits, rats and limited numbers of people have demonstrated that garlic has some ability to lower blood sugars.More research in this area is needed.
Common Cold
Awell-designed study of nearly 150 people supports the value of garlic for preventing and treating the common cold. In this study, people received either garlic supplements or placebo for 12 weeks during "cold season"(between the months of November and February). Those who received the garlic had significantly fewer colds than those who received placebo. Plus, when facedwith a cold, the symptoms lasted a much shorter time in those receiving garlic compared to those receiving placebo.
Cancer
Tuberculosis
Numerous test tube studies have demonstrated that garlic extract inhibits the growth of different species of bacteria, including Mycobacterium tuberculosis, the organism responsible for tuberculosis. Very high concentrations of garlic extract were needed to slow down the growth of M. tuberculosis in these studies, so some experts are concerned that these levels may be toxic topeople. While further research in people is needed, one animal study found that garlic oil also inhibited M. tuberculosis and reduced lesions in the lungs of these animals.
Intestinal Parasites
Laboratory studies suggest that large quantities of fresh, raw garlic may have anti parasitic properties against the roundworm, Ascaris lumbricoides, which is the mostcommon type of intestinal parasite. Garlic for this purpose, however, has notyet been tested in people.
Trade Information
Cheque, Cash in Advance (CID), Cash Advance (CA)

5000 Per Month
Contact us for information regarding our sample policy

Asia
Contact Us
106/24, Kabir Marg, Aggarwal Farm, Mansarovar Jaipur Rajasthan India +918035928270
Phone :+918035928270